The glib answer to the question "where does testing fit into your Digital Transformation project?" is "to get a high-quality product and the expected business outcomes, testing needs to feature highly in your digital transformation – as it does with any IT project."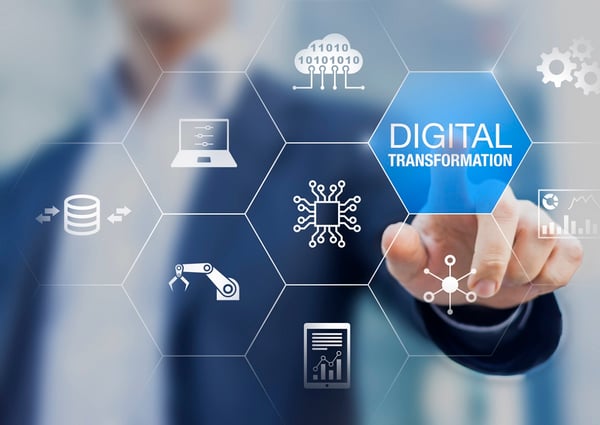 However, to properly answer the whole question and add a bit more detail, I thought it would be important to firstly differentiate between a DX project and any other type of project. Secretly, when anyone mentioned Digital Transformation, I nodded politely, kept calm and carried on. You see, I've felt for some time that they're one and the same thing and I wasn't able to convincingly articulate the difference. So, I turned to Google for help.
Salesforce.com, who know a thing or two about this sort of thing, define it like this:
"Digital transformation is the process of using digital technologies to create new — or modify existing — business processes, culture, and customer experiences to meet changing business and market requirements. This reimagining of business in the digital age is digital transformation."
Whereas Wikipedia says:
"Digital Transformation (DT or DX) is the use of new, fast and frequently changing digital technology to solve problems often utilising cloud computing, reducing reliance on user owned hardware but increasing reliance on subscription based cloud services."
Now, I didn't find either of these definitions that helpful, so I turned to super management consultants McKinsey & Company. In all honesty, I wasn't convinced they knew that much about these type of things – but they have certainly charged a lot of people, a heck of a lot of money to tell them about it, so I was willing to read their website - for free. The first thing I found out is that according to the McKinsey Global Institute's 2016 Industry Digitization Index:
"Europe is currently operating at 12% of its digital potential, while the United States is operating at 18%. Within Europe, Germany operates at 10% of its digital potential, while the United Kingdom is almost on par with the United States at 17%."
Interesting stats, but I had no idea what it even means. How does one quantify a country's digital potential? And what does digital potential even mean? Well, on the McKinsey website they cheerily told me:
"Europe is in the midst of a digital transition driven by consumers, thriving technology hubs, and some world-renowned companies. But digitization is also about the extent to which firms and industries invest in and use digital. In these respects, Europe is much less advanced. Yet if its laggards double their digital intensity, Europe can add €2.5 trillion to GDP in 2025, boosting GDP growth by 1 percent a year over the next decade"
So, my next question was "What is digital intensity?". Thankfully McKinsey let me know exactly what it is. Their website helpfully informed me:
"It's the degree to which digitization drives sectors and firms."
I, however, was still none, the wiser so I carried on reading. It turns out that…
"The Digital Single Market could accelerate GDP growth, adding €375 billion to €415 billion each year and providing a common platform to allow domestic firms to achieve scale."
Agh! What the Dickens is the Digital Single Market? Is that even considered in the Brexit deal? The plot thickened, so I poured a coffee and ploughed on.
"Companies must assess to what extent digital matters to them and how it might transform their business models. They must also adapt their organizations, digitize their operations, and promote open innovation along the way."
Open innovation sounds good. There are 2 good words put together – so it must be. I'm not sure how it differs to regular innovation, or even closed innovation, but I'm sure someone at McKinsey knows and will happily tell you.
It turns out that …
"The McKinsey Global Institute's Industry Digitization Index uses dozens of indicators to provide a snapshot of digital assets, usages, and workers…."
I was going nowhere fast! What is a digital asset? What is digital usage? And what is a digital worker? I had no choice but to continue reading. At some point, I was convinced, it would all become clear.
McKinsey asserted that:
"The Digitization Index uses 21 indicators to capture several ways in which companies are digitising. To measure digital assets, for instance, we consider business spending on computers, software, and telecom equipment, as well as stock of ICT assets."
They even provided a neat little table that describes the indicators.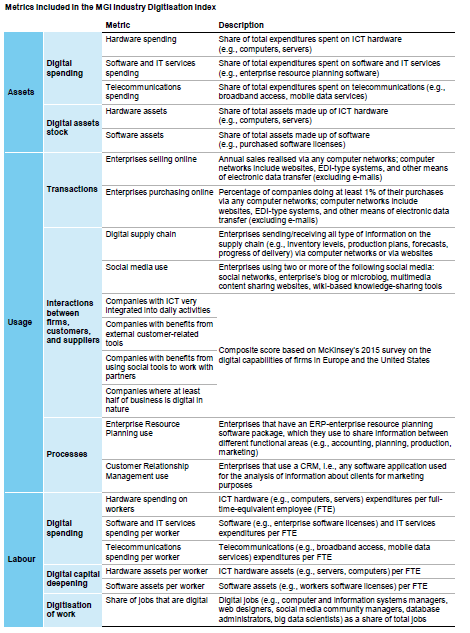 Source: McKinsey Global Institute analysis
OK, this is it. This could be helpful – or so I thought. Because when I looked at the detail I found myself wondering why, if as per common wisdom, and Wikipedia, DX often utilises cloud computing – why is McKinsey using Hardware Spending, Hardware Assets, Hardware Assets per Worker, (which seem like the same thing measured in 3 different ways) as indicators of a company's amount of digitization?
Then i found this useful little chart and comment.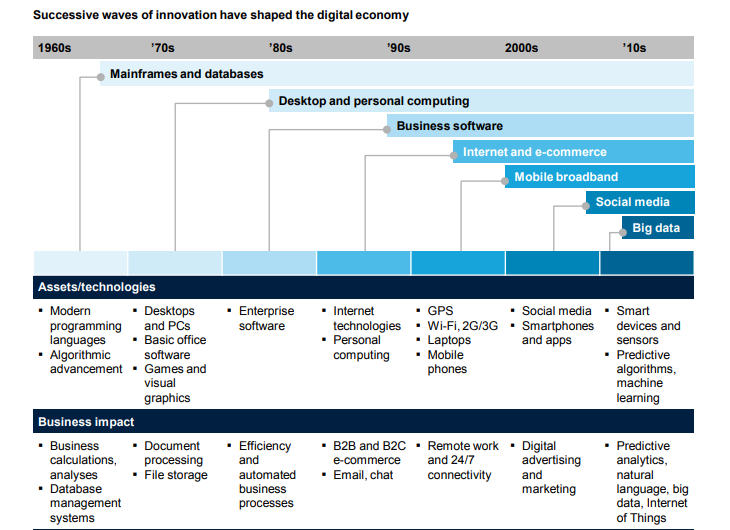 Source: McKinsey Global Institute analysis
McKinsey summarised it like this…
"While the early phase of digitisation focused on computing power and its affordability, and adoption was relatively slow, the focus today is on connectivity, platforms, data, and software."
Really? Has IT ever been about anything other than "connectivity, platforms, data and software"? So right there, from this one table, I found myself back at the beginning and confidently confirming my original suspicion. It really looks like a Digital Transformation project is just another IT project by a different name – driven by the marketing machines of the big consultancies.
So then, back to the question. Where Does Testing Fit into Your Digital Transformation Project?
Well my (slightly less glib) answer is go back to the art of testing and do what we always do - look at the architecture of the system under test, understand the business processes being digitised, understand the business objectives, identify the risks and test to mitigate them.