As another year starts, we can look ahead to what will be trending in 2019. We all know that ankle gracing trousers, wearing brogues without socks, growing a hipster beard (again) and heading to Greggs for a vegan sausage roll will all make the headlines, but with tech trends it's a little different. A few years ago, we predicted Multi-Cloud (now commonly called Connected Cloud), Big Data (Data Analytics), AR and Cyber Security would be prominent, which to be fair they are still front runners for making the top five, but the way in which they are adopted and implemented has somewhat changed due to other factors that complicate but enhance the IT landscape.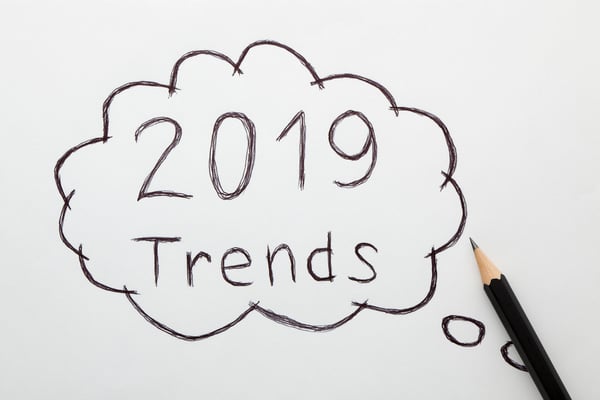 Other tech trends such as 5G, 8K TV's, Blockchain, Virtual Healthcare/Doctors and IoT's will be big but will have a lesser impact for those in IT. This article will cover the big five technology trends for 2019.
#1 - Cyber Security is still very prominent and companies now look to become resilient to threats there are certain key activities that should be undertaken to ensure your company stays safe. The internet as we have known it until recently has been a network that allows individuals and organisations to connect with one another and to vast sources of information. As more devices become connected the risks amplify and many companies are unprepared for any type of attack. Denial-of-Service (DoS), Phishing attacks, password attacks and eavesdropping attacks are all daily threats which need to be considered and dealt with. To combat risk, firstly it is important that you ensure you have a framework which outlines and identifies the data and processes that need to be protected along with conducting a risk assessment on those processes, data, hardware, software and network devices that are involved. Secondly, educate your team to ensure that they all understand their role in Cyber Security and when using or developing IoT devices ensuring security is embedded right from the start. Lastly, perform the actual testing required, whether that be penetration testing, security testing or a mixture of both.
#2 – Connected Cloud (Multi/Mega-cloud) is the new buzzword for the cloud conversation this year. Companies that rely on just one option of cloud whether that be public, private or data centres may be left behind in the ever-changing IT world, therefore using a combination or mix of all of them will mean the experience for IT and those that are using the applications will have a seamless, secure and streamlined service. Cloud testing is a subset of software testing in which simulated, real-world web traffic is used to test cloud-based web applications. Cloud testing also verifies and validates specific cloud functions, including performance and scalability.
#3 – Chatbots are here and here to stay, so far. I'm sure you've all experienced a chatbot and huge steps are being made to improve them especially around the way Natural Language Processing will develop. It is claimed, that close to 30% of big businesses will adopt some form of chatbot and by default will change the entire service industry. For those who haven't encountered one yet, a chatbot is an AI software that can simulate a conversation with a user in natural language through messaging applications, websites, mobile apps or through the telephone. An important part of the chatbot design is around the user testing. Testing of the chatbot isn't that much different from testing any other application, although voice commands replace the typically typed responses or normal functional testing…
#4 – Data Analytics and Data is key to companies being able to make good decisions about products, services, employees, strategy and a whole lot more. As the amount of data we hold grows, naturally the more of it we will want to use, whether that be to improve the services we provide or to allow companies to tailor services specifically for a type of customer. As computers and their associated processing power increase machine learning, we are going to see digital leaders investing in making more of all their data. In Big Data testing, testers have to verify that terabytes of data are successfully processed. This type of testing would generally focus on performance and functional testing.
#5 – AR (Augmented Reality) is VR's (Virtual Reality) little brother and continues to be the name of the game in 2019 digital transformation trends. AR is the integration of digital information with the user's environment in real time, think Head Up display within a car for example. Unlike VR, which creates a totally artificial environment, augmented reality uses the existing environment and overlays new information on top of it. Augmented reality-based testing is a test method that combines augmented reality and software testing to enhance testing by inserting an additional dimension into the testers field of view.
To stay ahead of the curve, QA professionals need to stay updated on the latest testing trends. The only way to be immune to the disruptions in the software industry is to prepare for the future. The above-mentioned software trends will help testers in investing their time and efforts in acquiring the rights skills and tools for 2019.