Diversity & Inclusion in the Workplace: Are we there yet?
Since the 1990s, employers have tried consciously to motivate their employees by engaging and empowering them to contribute to their organisations. This was the beginning of the "inclusion" wave which was stirred further by globalisation. As people from different cultures with different identities connected with each other through their employers, the evident "diversity" demanded attention. We, as employees, wanted to be treated equally irrespective of our age, race, language, gender, religious identity or who we choose to love.

Why Diversity & Inclusion?
Most of the time, our work environment reflects sociocultural events that take place in the society around us. Multivariate diverse teams tend to break the stereotypical business practices. A Diversity and Innovation study by BCG, suggests that companies with diverse leadership tend to generate higher revenue through disruptive innovation.
Working in 'melting pot' cities like Mumbai, Amsterdam and London with colleagues coming from varied backgrounds, I have observed that when people can bring themselves to the workplace; they can build empathetic networks of mentors. Such networks motivate employees to be creative and efficient, resulting in company growth.
For continual growth, companies also need to attract the Gen Z and Millennial talent. They are driven by their employer's societal commitment to create a diverse and inclusive work environment. This sector is more vocal about their views and prefer organisations that empower them to implement their ideas.
So, can all employers create such an environment where we all get equal opportunities or feel supported?
In the UK, out of 22m employees in the private sector, 11m work at larger organisations (more than 200 employees). Out of the total 5.5 million UK private sector businesses, only 7,700 businesses are large businesses employing 250 or more employees which is 0.14% of the total number of businesses.
Such larger businesses were early adopters to D&I as part of their ESG (Environmental, Social and Governance) drive in their workforce, largely due to the potential of recruiting across a variety of roles. They can also afford to invest in training their staff to be more inclusive and in creating a level playing field during recruitment for the under-represented social groups. But do they include the entire able workforce? The story is very different for small and medium-sized businesses that employ 50% of UK's employees.
Usually, small or medium-sized businesses cater to a specific market and deliver limited functions. Also, smaller businesses (1- 9 employees) may need niche skills or can be family-owned businesses. While recruiting, even with intent, it may not be feasible to get a perfect skill/function matched candidate with a diverse background. The organisation size and turnover may make it difficult to build an inclusive organisation structure and avenues for employees to connect and learn from their peers. Opting for customised training on D&I awareness could be a bigger financial commitment for the size of business.
Inclusion & Diversity in nFocus Testing
A growing medium-sized business such as nFocus Testing also faces similar challenges, but are we there yet?
Here are my observations and reflections on our progression:
In July 2020, when I joined nFocus Testing, the organisation had a policy in place to provide equal opportunities to everyone and the D&I policy was in the making. The structure at nFocus Testing is flat with a set of core permanent resources and a network of professional associates to support the flexible client demands.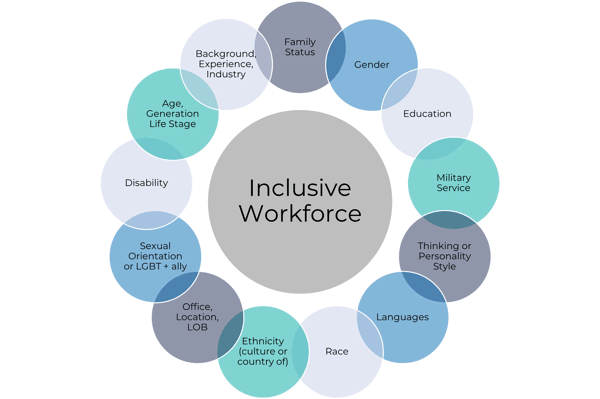 So what steps are nFocus taking?
nFocus will provide training to the senior management to avoid unconscious biases. nFocus has always selected the resources only based on their skill and that the role fits them. This has indirectly helped in creating a diverse resource profile.


The organisation cares and supports women by acknowledging their technical contribution towards client delivery and nominating them to join the forums like Women in Tech. 30% of the current team consists of women across functions and we aim to keep growing this.


nFocus' SDET Academy offers candidates an opportunity to cross-train in testing. nFocus then provides placement to the successful graduates to gain tech delivery exposure. Selection criteria for the cohort is always an aptitude test and not based on their gender, ethnic background, age or previous experience.


Flexible work arrangements are available for every employee so that employees can maintain their work life balance, contribute to the charity/forums they identify with or acquire additional skills.


Every support is offered to our applicants during selection process so that all applicants get equal opportunities in a safe environment. Any support provided is confidential between that individual and the company.
When asked about next steps, Ryan James says: "I'm incredibly proud that nFocus has such a diverse range of employees and that we've created such an inclusive environment. As we move forwards, it's important that we reflect that every company's D&I initiative will be unique. It is not a one-off trend. It will take consistent efforts to implement the initiative and ensure its effectiveness."

"nFocus will provide training to the senior management and recruitment team to further develop our own D&I policy. This will help us in continuing to create a conducive environment where all our employees can thrive."


"While selecting candidates for the SDET Academy, it was difficult to find women with STEM educational background. nFocus is committed to promote STEM interests in girls from an early age. Employees will be supported to contribute their paid time for this cause."
I hope that in our growth journey, we as SMEs will be able to build diverse teams and nurture them by providing a safe environment. Diverse teams bring their independent perspectives that will actively remove biases from the system. In the forthcoming AI driven era, our steps towards a cohesive society will influence the civilisation for years to come and we're always willing to learn more and adapt as we go.
How important is diversity and inclusion in the workplace to your business? Let us know your thoughts on this article below.